Using Innovative Technology to Educate Future Changemakers
September 16, 2019
In the south of Bali, Indonesia, there is a place where tropical trees are interspersed with shiny metal panels; this is Green School, where children of all ages are learning to fight environmental challenges.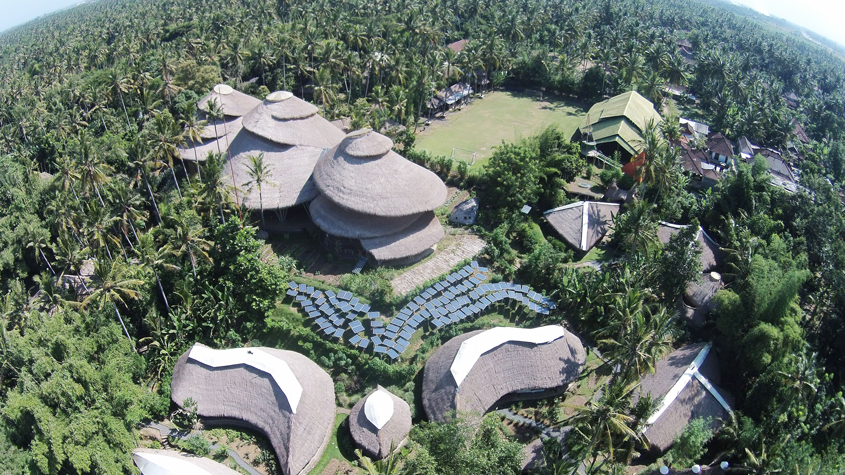 Focused on green technologies, this leading international school strives to empower its students to become green changemakers.
In 2018, the School's Innovation Hub started looking for a way to generate drinking water for the campus, especially in the dry season. Thanks to a WIPO GREEN project, Green School established collaboration with a US-originated global company, Zero Mass Water, and installed SOURCE hydropanels, bringing sustainable potable water to its students.
Sustainable learning environment
Founded in 2008, Green School believes in climate-friendly education to ensure a sustainable future. Over the years, it was named the 'Greenest School on Earth' (2012) and won the prestigious Zayed Sustainability Prize (2017). All thanks to the School's philosophy: the education process starts with building an appreciation for sustainability in students. One of the ways of doing that, according to Green School's founders, was to create a sustainable learning environment in which students could better understand the challenges of "living green" and work on their practical solutions.
This strategy required a creative approach to campus organization. To date, Green School has incorporated various clean technologies into its daily operations, including 85% renewable energy to supply the school's power needs (11% solar photovoltaic and 74% mini-hydro vortex), a water filtration system, a waste management center, a composting station, aquaponics, and biodiesel buses.
One of the missing pieces of this lean educational system was generation of drinking water, especially in drought conditions. That is why Green School's Innovation Hub Project Manager, Baxter Smith, decided to participate in the Green Technology Matchmaking Event in Southeast Asia, co-organized by WIPO GREEN.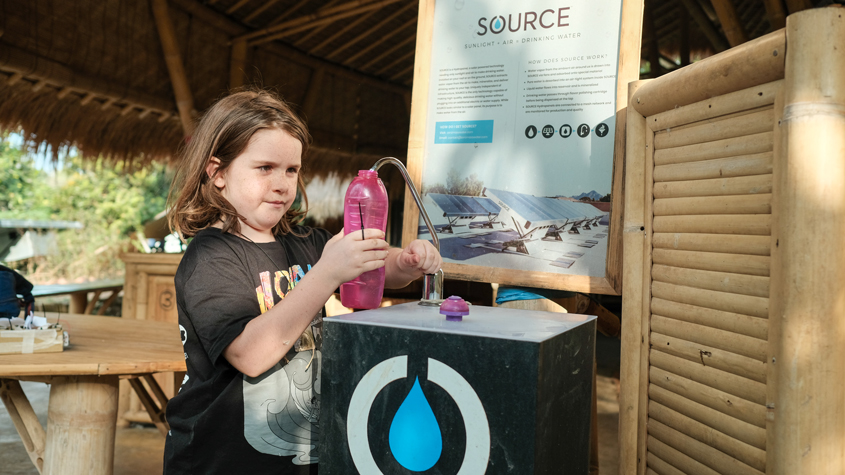 "Searching for green innovations available on the market is at the core of Green School's Innovation Hub not only because this ensures that the campus is sustainably managed," – says Mr Smith. – "We also want these technologies to inspire our students to be daring and to come up with more unconventional and creative ways to address environmental challenges".
"But finding the right company to collaborate with is not always easy; the area of our work, geographical and climate context of our location – all these features play a role when we take a decision on incorporating a new technology," – he continues. – "That is why, when we learned about the Matchmaking Event in Manila, it seemed like a great opportunity to build some in-person connections with innovators working particularly in our region".
WIPO Acceleration Projects: Matches made across the globe
In June 2018, Baxter Smith attended the green technology matchmaking event in Southeast Asia at the Asia Clean Energy Forum (ACEF) in Manila, Philippines. It took place as part of the WIPO GREEN acceleration projects – annual programs aimed to bring together clean technology seekers and providers around specific technology challenges in a particular region of the world. The event in Manila was organized in partnership with an Indonesian social enterprise Kopernik, gathering 85 innovators and sustainability-related experts from 26 countries and prompting over 150 initial connections.
At the event Baxter Smith met Benjamin Lim, Zero Mass Water's Technical Director in Asia, who proposed Zero Mass Water's hydropanel called "SOURCE" as a solution for the Green School's water harvesting technology needs.
Water from sunlight and air
Zero Mass Water's SOURCE is a hydropanel that produces drinking water from sunlight and air, thus effective in drought-prone areas. It draws ambient air through a fan into a set of hygroscopic materials engineered by Zero Mass Water, extracting the air's moisture. After that, a condenser converts the moisture into water flowing into the panel's reservoir. There the liquid runs through a mineral block that infuses it with magnesium and calcium, turning it into quality drinking water.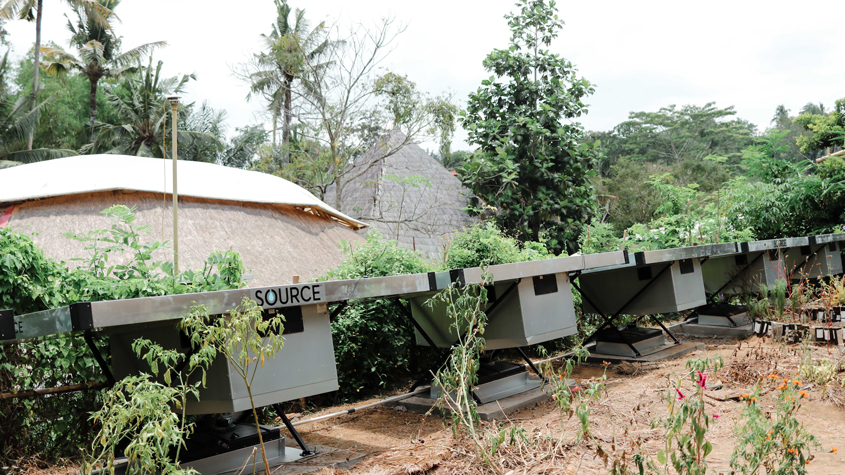 Over its lifetime, SOURCE Hydropanel removes 50,000 plastic bottles from circulation. In addition, its simplicity and the ease of its maintenance makes SOURCE a technology that can be used in households and other places, such as offices and schools.
Following the meeting between Baxter Smith and Benjamin Lim during the green technology matchmaking event, Green School and Zero Mass Water began preparing for the installation of six SOURCE hydropanels in Green School's Bali campus early October 2018.
Less plastic, more learning
As the latest addition to the School's set of clean technologies used in its day-to-day operations, the SOURCE hydropanels represent another step forward in the realization of a unique, carbon-neutral educational environment. Each hydropanel can produce up to five liters of water a day; since October 2018, the Green School community (around 500 students and 300 staff) benefitted from 6830 litres of clean drinking water coming from SOURCE – of which over 150 litres went to the school's storage tank.
In addition, installation of the hydropanels in the campus also serves to educate students, parents and visitors about green technology and innovation. "The Zero Mass installation works well at Green School Bali where the emphasis is on integrating student learning with real-world solutions," says Sal Gordon, Head of Teaching and Learning – Principal at Green School Bali.
Connecting technology and service providers with those seeking innovative solutions is the main goal of WIPO GREEN acceleration projects. Would you like to participate?
Become a user
of the WIPO GREEN database – it is easy and free of charge.