Women in Green: Inclusivity in Treating Wastewater
March 4, 2021
By Lidia Kleshchenko, Associate Program Officer, Global Challenges Division, WIPO
Prof. Merlinda A. Palencia, a researcher at Adamson University in the Philippines, invented an organic process to turn wastewater into clean water that can be used for irrigation purposes, and launched a start-up company to make the treatment accessible to everyone.
Short bio of Dr. Merlinda A. Palencia
Dr. Merlinda A. Palencia is currently a Full Professor in the Chemical Engineering Department at Adamson University in the Philippines. She is also the Chief Operating Officer of Envigor Natural Products Mfg. Inc., the first spin-off company of Adamson University's Technology Commercialization Program. The primary focus of Dr. Palencia's scientific research is on environmental protection and water conservation. At present, Dr. Palencia is the project leader of two field-testing projects of Modular & Ecology-Friendly Domestic Wastewater Management in the Ati Community, Boracay Island, Malay Aklan, and in the Small and medium-sized enterprises (SMEs) of selected Manila Bay Area.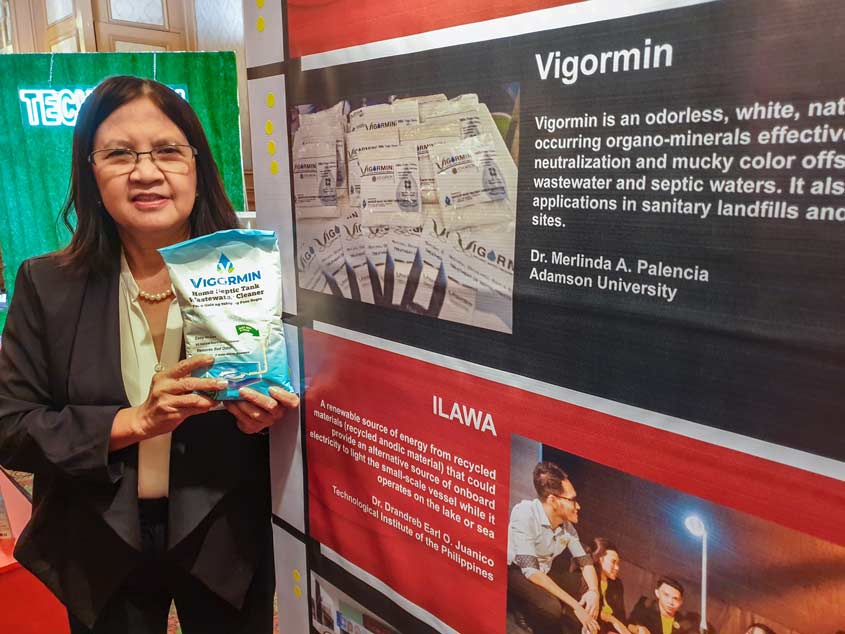 My experience in science has shown me that women have an immense potential in innovation. We need to share our individual talents and collaborate actively, not only for the advancement of technology, but more importantly towards the protection of the environment and conservation of resources.

Dr. Merlinda A. Palencia
What inspired you to create Vigormin?
Half of all rivers and other natural water resources in the Philippines are highly polluted by waste waters – predominantly originating from household processes. In 2004, the Government of the Philippines enacted the Philippine Clean Water Act of 2004 to resolve this problem through the protection of the country's water bodies from pollution from land-based sources. The motivation behind my research was to contribute to the rehabilitation of water resources in the country and to make the solution accessible to a wide range of actors, ranging from industry organizations to private citizens and families.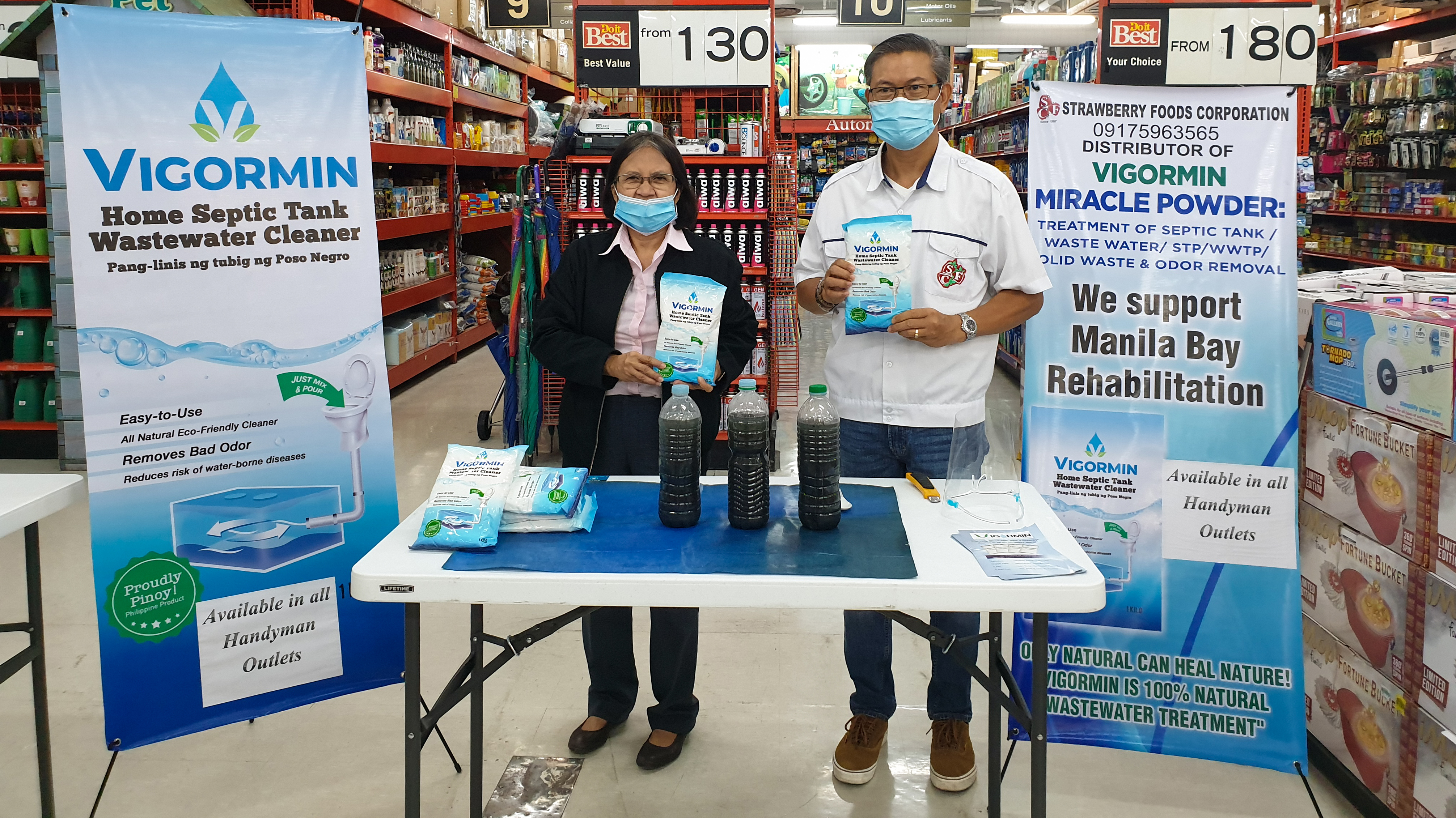 Tell us more about Vigormin. How does it work and what are its advantages?
Vigromin is a fully organic and eco-friendly powder, composed of a blend of minerals and other natural components. It is completely safe to use and can even be mixed with water by bare hands. In addition, it is very simple and inexpensive. The technology differs greatly from traditional products for water purification typically found on the market; many of which are highly chemical or highly mechanized, making it challenging to use for small enterprises and individual households. Vigormin can be adapted by anyone, making water treatment a participative and inclusive process, which has been my goal from the beginning.
To use Vigormin, one simply needs to pour the powder into the polluted water or into the toilet bowl, for example. Within the first 30 minutes, the result will already be visible. Within three to four hours, the water will become significantly clearer. After regular application of Vigormin, for at least 60 days, the treated water that would otherwise be wasted can be safely reused for drip irrigation of crops.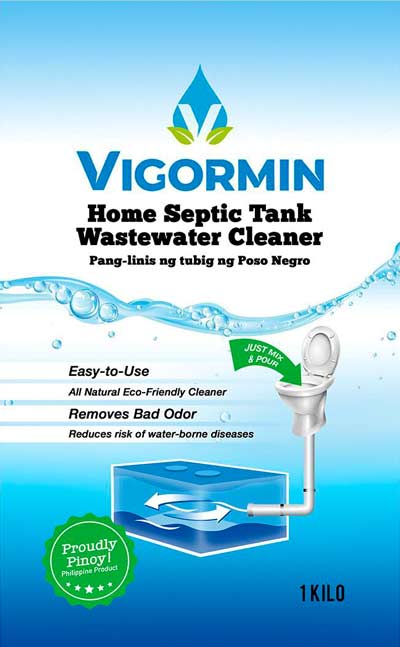 You have also created a spin-off company; could you tell us more about it?
Indeed, I am currently leading a start-up company, Envigor Natural Products Manufacturing Inc., that started its operations in January 2020. Of course, at that time the world was rapidly changing and the global focus has been on the COVID-19 pandemic ever since. Nevertheless, we managed to launch our product and found several retailers to sell Vigormin nationally.
We are currently selling the product online and in some partnering supermarkets. There are quantity options of 1 kg, used mostly by individual households, and of 25 kg, made specifically for industrial use. Restaurants, hospitals, and residential buildings are among our regular clients due in part to national laws mandating the proper treatment of wastewater. While no such obligation exists for households, we are still working on promoting Vigormin for household use. I believe that wastewater treatment is a responsibility that falls to all levels of society, therefore we will not abandon our efforts in trying to make this process a participative one.
What is your intellectual property strategy?
Vigormin is a technology currently protected as a trade secret by Adamson University. In addition, our company has registered it with the Bureau of Patents of the IP Office of the Philippines (IPOPHL) as a utility model. This suits our needs at the moment, but we are open to adapt our strategy in the future.
In addition, the names Vigormin and Envigor are registered as trademarks in the Philippines. Vigormin is only available on the national level, however, potential collaborations are being explored with companies in Singapore, Thailand, and the United Arab Emirates. If these negotiations come to fruition, we will apply for trademark protection in some of these countries.
Apart from making wastewater treatment participative, what are your other ambitions for the future?
At present, the focus of my research is on finding the best process of converting the sludge from polluted water into a natural fertilizer. There are some promising results obtained from our laboratory tests, but the technology is still in development and testing.
What message would you share with women and girls in Asia, who dream to change the world through their innovations?
My experience in science has shown me that women have an immense potential in innovation. We need to share our individual talents and collaborate actively, not only for the advancement of technology, but more importantly towards the protection of the environment and conservation of resources. Technology advancement is meaningless if we cannot sustain nature and preserve life.
About WIPO GREEN
WIPO GREEN is a global marketplace for sustainable technology, supporting global efforts to address climate change. Through its online database and regional activities, WIPO GREEN connects green tech seekers and providers in order to catalyze green innovation and accelerate green tech transfer and diffusion. Subcribe to the monthly WIPO GREEN newsletter.