Green Innovation for Healthy Forests
March 19, 2021
Read WIPO GREEN's special feature on sustainable technologies in forestry and get free access to an online event on forest and wood innovation.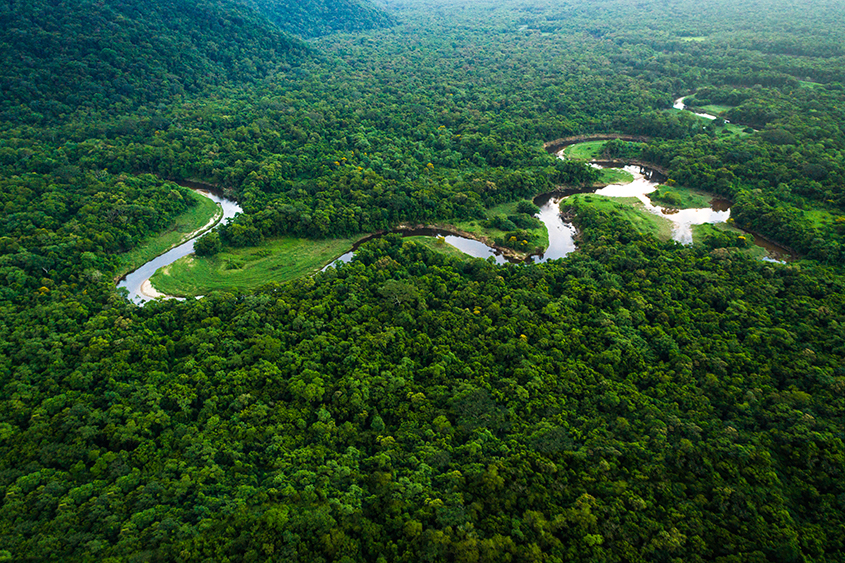 Covering over 30 percent of the world's total land area, forests – commonly known as the "lungs" of our planet – represent a natural carbon sink – a reservoir that stores carbon emissions and lowers the concentration of CO2 in the atmosphere. Being home to 80 percent of land animals and plants, forests are essential to biodiversity all around the world; in addition, forests regulate water cycles, maintain soil quality, and reduce the risks of natural disasters such as floods. They also play a central role in the economy as about 1.6 billion people globally depend on them for their livelihoods and daily subsistence needs. Currently, the world still loses about 14.5 million hectares of forests annually, an area equivalent to the size of 27 million football fields or bigger than the size of Tajikistan. In this piece, WIPO GREEN explores currently available green technology solutions for forest management and how they can be used to enhance forest health and biodiversity.
Satellite technology for forest monitoring
Satellite technology used for special monitoring of agricultural and forest resources is one of the main trends in this field, mainly because it helps to assess the vast territories with significant ease, compared to other methods. Using satellite imaginary and AI, many companies work on early forest fire detection, climate change impacts analysis and even harvesting.
Mitsubishi Electric Corporation (Japan), one of the newest members in WIPO GREEN partners' network, which now counts over 120 partners worldwide, has recently added their satellite observation technology to the database. This technology collects imaging data from observation satellites that monitor periodically the earth's surface and oceans. Utilizing both optical images and radar images with advanced information extraction, its users can access relevant information in various fields such as disaster mitigation, agriculture, forest management and development, maritime monitoring, urban and infrastructure development.
In its corporate press release on March 15, 2021, Mitsubishi commits "to contributing to a sustainable future through decarbonization, reduced-impact total value chains, energy-efficient products and systems and construction of advanced infrastructure".
On April 15, 2021, WIPO GREEN partner Leonhard Ventures, will host its third Forest and Wood Innovation Forum, an online event on forest, timber and wood technologies and related opportunities. The Forum's program includes researchers, government officials, corporations and start-up companies. While the participation fee rises up to 180€, WIPO GREEN users and partners can join the event free of charge if they mention WIPO GREEN.
Not yet a registered user of the WIPO GREEN database? Create your account.
"As one of the companies with the highest number of patent applications, both in Japan and abroad, we hope that our efforts and our collaboration with WIPO GREEN will stimulate green technology use and distribution around the world" – said Yoshimichi Shishido, Senior General Manager, Corporate Licensing Division at Mitsubishi Electric Corporation.
Other satellite-using technologies available on the WIPO GREEN database include Satellogic's environmental tracking system (USA), Dymax's geospatial data digital platform (Argentina) and FORESTECH's forestry web management solution (Canada).
Forest-related technologies and needs on the WIPO GREEN database
The WIPO GREEN database is a catalogue of sustainable solutions and needs from across the world. It offers technologies from prototype to marketable products, available for license, collaboration, joint ventures, and sale. It also contains needs as defined by companies, institutions, non-governmental organizations and governments looking for technologies to address specific environmental, food security, or climate-change challenges.
Over 40 technologies and three needs in the fields of biodiversity, ecosystem restoration and forest production have been submitted on the WIPO GREEN database. Forest-related submissions can also be found across other categories, such as materials and energy, for example using wood for solar power or biogas.
Increasing the forest surface is an essential activity in the fight against climate change, and local actors in Argentina are implementing forest conservation projects. Because of the country's large surface and highly diverse ecosystems, different silvicultural management strategies are needed: solutions adapted for areas with shallow soils and/or high stoniness as well as technologies adapted to heightened salinity and/or sodicity (the accumulation of sodium salt relative to other types of salt cations) conditions.
The database entries of forest-related innovative solutions come from 14 countries across four continents, the highest numbers of contributions originating from Japan (12 technologies).
Here are some of the examples of forest-related green technologies present on the WIPO GREEN database:
About WIPO GREEN
WIPO GREEN is a global marketplace for sustainable technology, supporting global efforts to address climate change. Through its online database and regional activities, WIPO GREEN connects green tech seekers and providers in order to catalyze green innovation and accelerate green tech transfer and diffusion. Subscribe to the monthly WIPO GREEN newsletter.