Women in Green: A Daughter of Spain Harnessing Clean Energy from the Sun
September 6, 2022
Marta Cañada, 46, Co-Founder and Chief Technology Officer (CTO) of Abora Energy, led the development of the most cost-effective hybrid solar panels ever created, securing a certified world record in solar efficiency[i]. She is the next face of our ongoing series spotlighting female green tech innovators, Women in Green.
The sun sits approximately 150 million kilometers away (93 million miles) from the earth, but in recent years, unusual extreme temperatures and record-breaking heat waves in many parts of our planet are making it feel much closer.
Long periods of excessively hot weather can cause droughts and forest fires, decrease agriculture production, and lead to other negative environmental consequences. On the bright side, the sun is also a source of unlimited renewable solar energy. Every day, it supplies the earth with a thousand times more energy than we demand. Due to technological innovations, our ability to harness the sun's potential and other renewable energy sources is better than ever.
A self-proclaimed "hippy with a heart" and a woman with a mission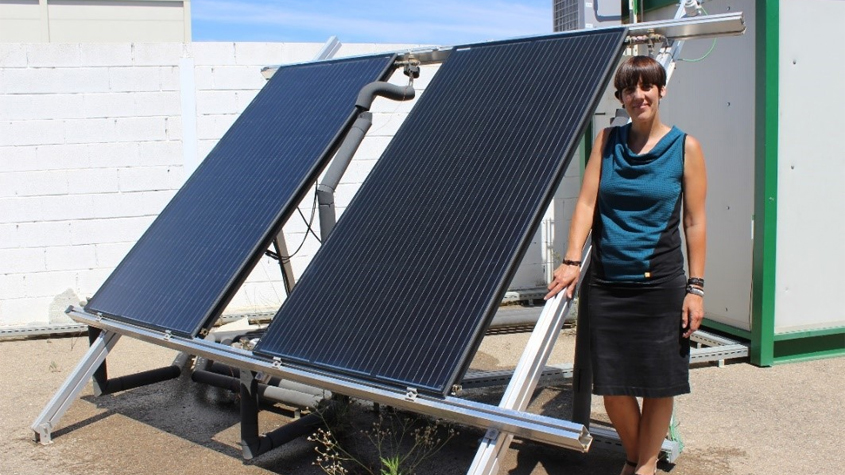 Recent photo of Martha Cañada standing next to Abora's test bench
Marta Cañada knew she wanted to enter the renewable energy industry since her early 20s. Born and raised in sunny Zaragoza, Spain, she zoomed in on solar generation. At the time, the ability to transfer the sun's energy into electricity came at a high cost and was plagued by low efficiency. For Cañada, who was in university studying industrial engineering and electronics at the time, installing solar panels on rooftops was a fringe concept.
"It was a hippy thing," Cañada told WIPO GREEN, laughing. "But I saw no point in working on anything that wasn't saving the planet. It was my desire to help future generations by only making things that reduce the impact of people on the planet."
Increasing the use of renewable energy is a key component of limiting global warming, with solar, in particular, drawing considerable attention. According to WIPO's Economics and Statistics Division, in 2002 solar technology patents accounted for just over a quarter of published Patent Cooperation Treaty (PCT) applications for renewables; in 2019, they represented over half. The global solar energy market was estimated at US$ 197 billion in 2021 and is expected to reach US$ 369 billion by 2030[ii].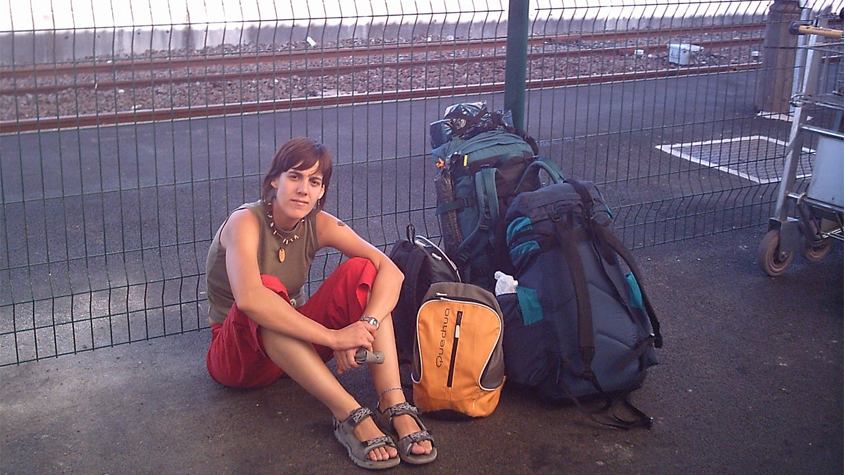 A young Martha Cañada while still in college
After graduating from the University of Zaragoza in 2001, Cañada got her professional start by assembling electrical panels and fixing components on solar inverters, an essential solar panel component that converts electricity between the panels and the power network. Throughout those early years, she was also part of a team installing small thermal and photovoltaic (PV) solar panels on rooftops in Barcelona and other regions in Spain and Italy.
The increasingly experienced Cañada managed to climb the ranks and soon ran her first research and development (R&D) division. "I never made myself small or hid my capabilities," she explained. "A large majority of my colleagues in the industry back then and still today are men: the operators, electricians, engineers, but I knew what I bring to the table and was never afraid of a challenge."
Wanting to solve one of solar's biggest drawbacks, its overall efficiency, Cañada soon found her niche within a niche in 2014: hybrid solar panels. Hybrid solar panels, referred to as Photovoltaic Thermal Collectors, or PVTs for short, were already the most efficient solar option available, but Cañada knew there was room for improvement. "I wanted to focus on developing a new generation of hybrid solar technologies that maximize not just the sun's rays but also its clean heat," explained the future co-founder and inventor.
In 2017, she got her chance. Abora Energy was officially established with five co-founders at the helm and the goal of designing, developing, and manufacturing the next generation of innovative PVTs. Cañada is the only female co-founder and its first and current Chief Technology Officer (CTO).
Solar panels and efficiency
Solar panels come in three modes: photovoltaic (PV), thermal, or hybrid (PVT). Their efficiency, noted in percentages (%), is a measure of sunlight converted into electricity (or heat) based on panel configuration and size.
Photovoltaic solar panels are the most widely used and recognizable. PVs use different types of silicon cell technologies; when in contact with direct sunlight, the cells transform the sun's rays into electricity. Generally, PVs are approximately 15-25% efficient.
Thermal solar panels absorb the sun's light to produce hot water and heat buildings and swimming pools. Thermals do not generate electricity. The panels are usually attached to a large cylinder that stores the hot water for later use. The percentage of the sun's light that is absorbed by the panels and converted into heat can go as high as 75%.
The combination of PV and thermal technologies is hybrid solar panels, or PVTs. This two-in-one solution converts solar energy into electricity and heat simultaneously. Depending on the PVT technology, hybrid panels can double PV's efficiency but can cost about 30% more.
Time to shine
"We wanted to set a new standard, a new precedent for hybrid efficiency," Cañada shared. Leading her second R&D department, Cañada and her team developed a new type of hybrid solar panel that generates the most energy per square meter (m2) in the market today. The innovation that makes the difference is their patented aHTech® technology, allowing one Abora solar panel to produce the same energy as four photovoltaic panels.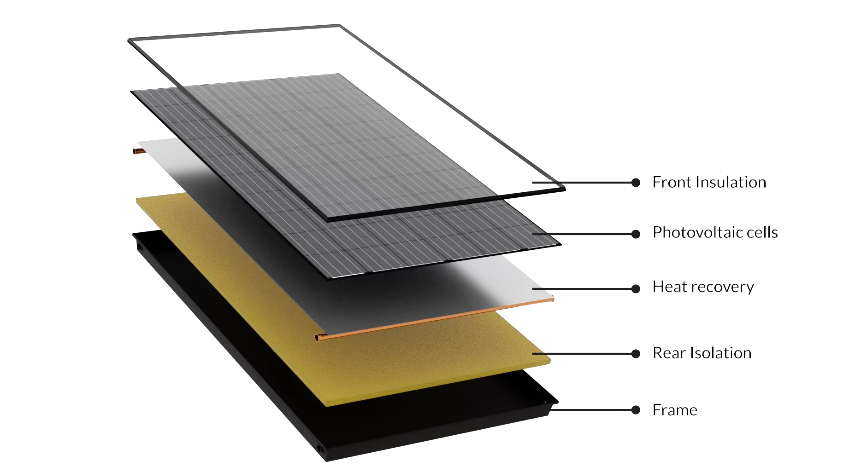 Diagram of Abora Energy's solar panel with aHTech® technology
"A standard photovoltaic panel is around 20% efficient; the rest is lost to heat," Cañada explained. Abora's two-in-one panel has high-efficiency thermal collectors on the back and photovoltaic solar cells on the front. The cells convert solar energy into electricity while simultaneously, the thermal collectors trap the sun's radiation and convert it into heat. "With our aHTech® technology, designed to minimize thermal losses and maximize electricity production, a large amount of heat is recovered, increasing our total efficiency. Currently, we're able to reach 19% efficiency from our photovoltaic cells and 70% from the heat generated."
This is how Abora Energy, an SME based in Zaragoza, Spain, can claim their hybrid solar panels are certified and patented as the most efficient hybrid solar panels in the world, with a total efficiency of 89% — each panel producing 360W of electricity and 1372W of thermal power under ideal conditions. According to Cañada, this high efficiency translates directly into cost-effectiveness as her panels produce more energy with less space.
To stay ahead of competitors and benefit from their innovations, Abora protects its innovation through intellectual property rights (IPR). In addition to patents and trademarks, according to Cañada, industrial secrets are the company's strongest IP tool.
Shaping the future
Solar currently produces about 3% of the world's total energy supply, but that is changing as the cost of installing panels on the roofs of private homes continues to fall. Overall, today the costs of renewables like solar energy are on par with coal. However, as the efficiency of solar improves, its longevity and recyclability remain obstacles. A standard solar panel's productive lifetime for all modes ranges between 20-30 years, but their efficiency decreases as they age. Batteries have an even shorter life span. Similar to wind turbines, solar panel systems are hard to recycle due to the complex process of separating materials and rare earth metals.
To address these obstacles, Cañada and her R&D team are in the final creation phases of their latest innovation they are calling the Solar Heat & Electricity (SHE) panel. "SHE is the product with which we have the strongest patent protection in the European continent and due to fillings in process in the main international markets around the world. It holds a lot of promise to disrupt the industry," said an excited Cañada.
The SHE panel seeks to reduce the carbon footprint of PVT manufacturing and production, increase the lifetime, and hopefully allow easy recyclability of the most critical materials. Her passion and the promise of the SHE panel is backed by a €2 million euro grant from the European Commission with the first rollout expected by the end of September 2022.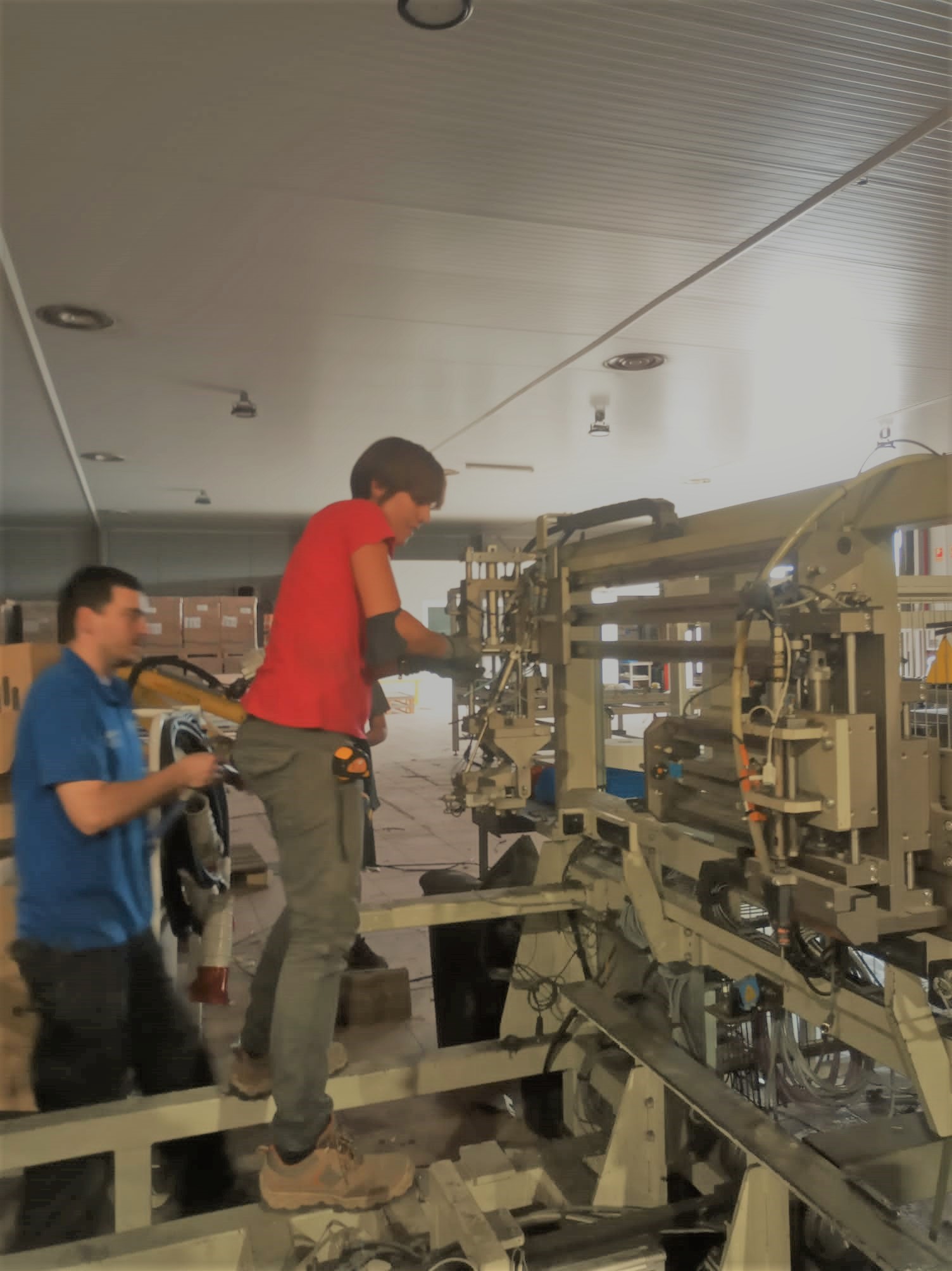 Marta at work
Since its creation in 2017, Abora has grown from five employees (the co-founders) to 35 and continues to expand nationally and internationally. Much of its success is due to its innovative technological products, led by its lead inventor and CTO. "Certification of our panels was the most challenging part of getting where we are today," said Cañada.
Technologies with electricity and fluids in close proximity must comply with strict safety regulatory standards, like the Solar Keymark, a certification mark for high-quality solar thermal products, which Abora obtained earlier in 2022 after a four-year-long effort. "In a mature industry, achieving the highest level of certification was very important for us, not only because we care about quality, but to minimize the impact of the carbon footprint in the manufacturing and supply life cycle."
Where there are challenges, opportunities await. Cañada encourages more women and girls to engage in the renewable energy industry to help solve its issues and innovate for humanity. She often speaks at schools to young children about her experiences in the industry to inspire them, especially girls, and educate young minds about renewables. "My main message to women and girls when I do these visits," said Cañada, "is 'do not place more barriers in front of you than there already are.'"
PONS IP, a global IP firm headquartered in Madrid, Spain, and a WIPO GREEN partner, nominated Marta Cañada for this series. Abora Energy's innovations are available on the WIPO GREEN database.
About WIPO GREEN
WIPO GREEN is a global marketplace for sustainable technology, supporting global efforts to address climate change. Through its online database and regional activities, WIPO GREEN connects environmentally friendly technology seekers and providers in order to catalyze green innovation and accelerate green tech transfer and diffusion. Subscribe to the monthly WIPO GREEN newsletter.